TOSHIBA 20L GRILL TOUCH MICROWAVE OVEN | ER-SGS20(K)MY
In Stock
9 Auto Cooking Menu
Weight & Time Defrost
Net Capacity 20L
Description
Microwave & Grill Cooking
Microwave & grill cooking with 800W cooking power helps to heat and cook food crispy, efficiently and quickly.
.
9 Auto Cooking Menu
9 Auto cooking menu includes: Popcorn, Potato, Pizza, Frozen Vegetable, Beverage, Dinner Plate, Meat, Weight Defrost and Time defrost.
.
Weight & Time Defrost
Defrost food by its weight range and time.
.
Specifications
Auto Cooking Program
Multi-Cooking Function
Child Safety Lock
Control Type: Touch Control
Turntable Size: 255mm
Voltage: 220V/50Hz
Power Level: 11
Capacity: 20L
Grill Power: 1000W
Microwave Power: 800W
.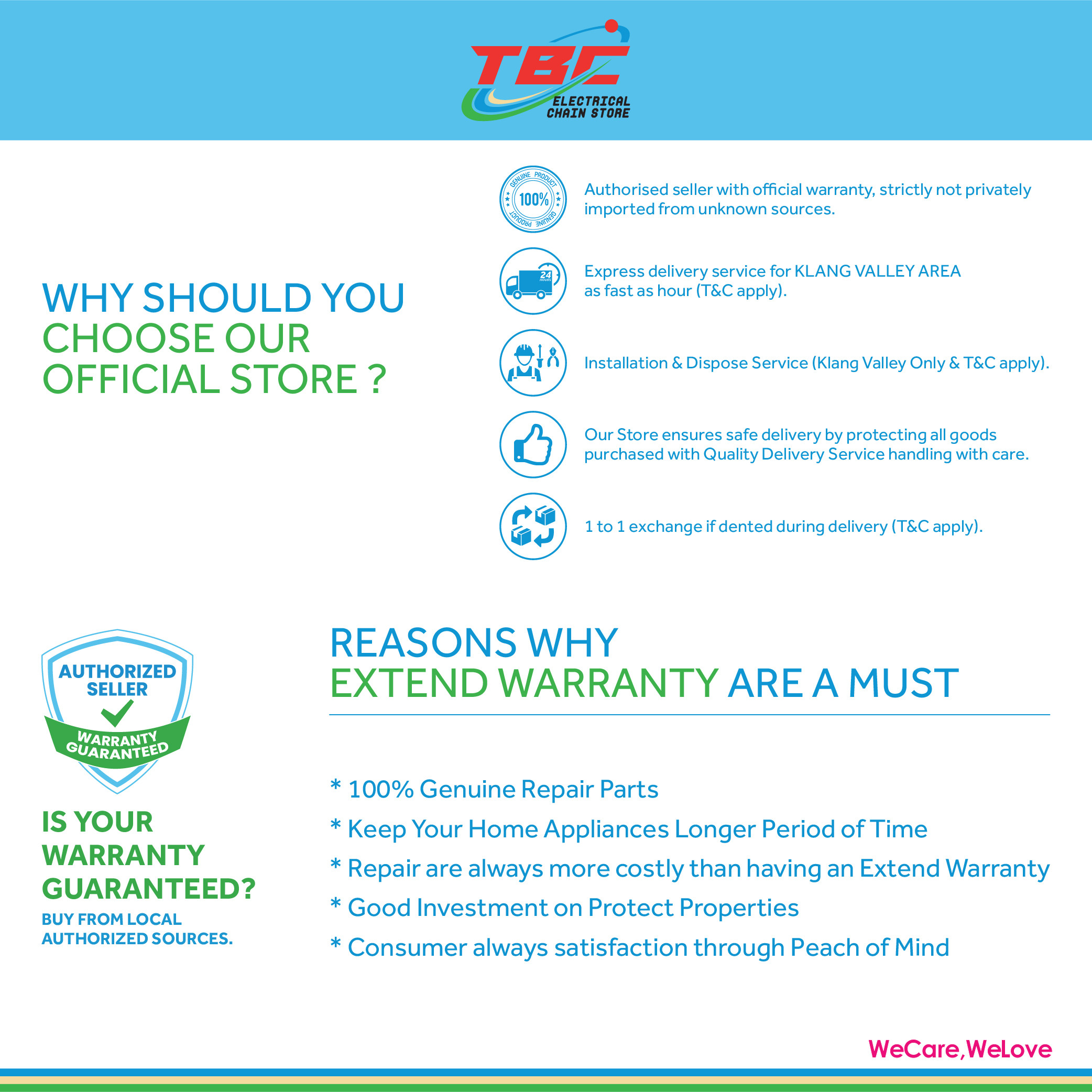 Additional information
| | |
| --- | --- |
| Weight | 15.00 kg |
| Dimensions | 26.00 × 44.00 × 33.00 cm |
Quick Comparison
Settings
TOSHIBA 20L GRILL TOUCH MICROWAVE OVEN | ER-SGS20(K)MY

remove

RINNAI 2-BURNER BUILT-IN GAS HOB | RB-712N-G RB-712N-S

remove

SAMSUNG 32L SOLO MICROWAVE OVEN WITH FOOD WARMING | MS32J5133GM/SM

remove

RUSSELL TAYLORS SLOW JUICER EXTRATOR | SJ-6

remove

HITACHI 586L 4 GLASS DOORS INVERTER REFRIGERATOR WITH WATER DISPENSER | R-W720P7M GBK

remove

RINNAI SUN BURNER GAS STOVE (2 BURNERS) | RI-522SC

remove

Name
TOSHIBA 20L GRILL TOUCH MICROWAVE OVEN | ER-SGS20(K)MY

remove

RINNAI 2-BURNER BUILT-IN GAS HOB | RB-712N-G RB-712N-S

remove

SAMSUNG 32L SOLO MICROWAVE OVEN WITH FOOD WARMING | MS32J5133GM/SM

remove

RUSSELL TAYLORS SLOW JUICER EXTRATOR | SJ-6

remove

HITACHI 586L 4 GLASS DOORS INVERTER REFRIGERATOR WITH WATER DISPENSER | R-W720P7M GBK

remove

RINNAI SUN BURNER GAS STOVE (2 BURNERS) | RI-522SC

remove

Image
SKU
TOS-ERSGS20(K)MY
RB-712N
SAM-MS32J5133GM/SM
RUS-SJ6
HIT-RW720P7M/GBK
RIN-RI522SC
Rating
Price

RM

660.00 –

RM

735.00

RM

180.00
Stock

In Stock

In Stock

Out of stock

In Stock

In Stock

In Stock

Availability
In Stock
In Stock
Out of stock
In Stock
In Stock
In Stock
Add to cart
Description

9 Auto Cooking Menu
Weight & Time Defrost
Net Capacity 20L

3.7kW Gas Input
Sealed Burner
Flexible Cut-Out Size
Tempered Glass Top
Enamel Pan Support
Battery Ignition
Rubber Legs Attached
Japan Good Design Award

Ceramic Enamel Cavity: Easy to clean, anti bacterial protection, hygienic and durable interior
Food Warming: Keep dishes at the perfect temperature
Malaysian Menu Function: Enjoy local taste with pre-programmed local recipes

1.9kW Gas Input
Stainless Steel Burner
Enamel Top Plate
Piezo Ignition

Content

Microwave & Grill Cooking

Microwave & grill cooking with 800W cooking power helps to heat and cook food crispy, efficiently and quickly.

.

9 Auto Cooking Menu

9 Auto cooking menu includes: Popcorn, Potato, Pizza, Frozen Vegetable, Beverage, Dinner Plate, Meat, Weight Defrost and Time defrost.

.

Weight & Time Defrost

Defrost food by its weight range and time.

.

Specifications

Auto Cooking Program
Multi-Cooking Function
Child Safety Lock
Control Type: Touch Control
Turntable Size: 255mm
Voltage: 220V/50Hz
Power Level: 11
Capacity: 20L
Grill Power: 1000W
Microwave Power: 800W

.

Flame
Semi double ring ensures excellent heat distribution for quick and even cooking.
.
Tempered Glass
Durable, easy to clean.
.
Flexible Cut-out Size
Both the glass and stainless steel top plate fit the hob on any cut-out dimensions as stated, without further modifications to your counter-top. Good as a replacement hob!
.
Battery Ignition
Fast and easy, with no electrical wiring. Easy to replace battery, too.
.
Elegant Knob
The gas ignites automatically with one push and a turn, offering the convenience of using one hand to control the flame.
.
Rubber Legs
The attached rubber legs allow you to place the hob directly on the kitchen workspace, without having to cut a hole or modify the kitchen top.
.
Sealed Burners
Messy spillages are minimized and cleaning the hob is quick and easy
.
Cast Iron Wok Stand
Additional wok stand to support a big wok for Asian cooking or stir frying.
.
Specifications

Surface: Tempered Glass / Stainless Steel
No. of Burner: 2
Gas Input (LPG): L/R: 3.7kW
Gas Type: LPG
Power Supply: Battery ignition
Control Panel: Knobs
Pan Support: Enamel
Flexible Cut-Out
Product Size (WxDxH) 78 x 46.5 x 6.7 cm

.

Features

Ceramic Enamel Cavity: Easy to clean, anti bacterial protection, hygienic and durable interior
Food Warming: Keep dishes at the perfect temperature
Malaysian Menu Function: Enjoy local taste with pre-programmed local recipes
Healthy Steam with Pure Steamer
Local Recipe
32 Liltre
1200W
LED Display
2 Year General Warranty

.

Dimension

Cavity (WxHxD) 330 x 211 x 324 mm
Outside (WxHxD) 489 x 275 x 354 mm

.

Higher nutrient and multi-purpose

Extract up to 30% more juice and 40% more vitamins. Juices all fruits and veg including soft fruits, leafy greens, and wheatgrass.

.

Safe & 100% BPA-free

the cold press juicer will not operate WITHOUT juicer cover in place and safely locking arm in place in the sensing position. All the parts are made 100% BPA-free.

.

Space-saving design

ensures it doesn't take up too much room. The smart drip-free smart cap prevents the mess on the countertop and you can perfectly mix a variety of juices.

.

Easy to clean

reverse function avoid stuck and helps you to clean. Easy cleaning with the included brush or can be safely cleaned in your dishwasher.

.

Specifications

Size of Product (HxLxW) : 39 x 24 x 17 cm
Power : 150W
RPM : 85 RPM
Voltage : 220 - 240V
Speed : 1 Speed with Reverse Button
Plug : 3 Pin Plug
Capacity : JuicerCup (500ml), Bowl (300ml)
Cable / Corded : 120cm
In The Packaging : Main Body ( Motor ), Filter, Juice Bowl, Pusher, Feeding Cover, Auger Head / Squeezing Screw, 2 x Juice Cup ( 500ml ), Brush, User Manual

.

Inverter x Dual Fan Cooling
The Hitachi Solution for Powerful Refrigeration Plus Exceptional Energy Saving.
.
Dual Fan Cooling
Dedicated Fans for Each of the Compartments
It provides optimum cooling in both the freezer and the refrigerator compartments, something a single fan can't do. Improved Dual Fan Cooling ensures energy saving and powerful cooling, supported by the Eco Thermo-Sensor in each compartment detecting any temperature changes at all times.
.
High Power Inverter Compressor
Capable of providing exceptionally powerful cooling by generating a large volume of chilled air, as well as efficient low power cooling with microcomputer control.
.
Energy Saving
Controlling how much and to which compartment chilled air is delivered, it assures no wasted energy thus helping it acquire world top class energy saving ratings.
.
Powerful Cooling
Even if the ambient temperature reaches as high as 60°C, every corner inside the refrigerator is still thoroughly cooled.
*Tested by Hitachi. Test conditions: Ambient temperature of 60°C and stable interior conditions without opening or closing the door.
.
Stabilizer Free
Even without a special stabilizer, Hitachi's inverter refrigerator can operate under wide voltage fluctuations.
.
Long Cool Keeper
The temperature in the freezer compartment is maintained to keep food fresh in the event of a power cut.
.
Fresh Select
The Select Lever lets you adjust the inside temperature by switching between the two modes.
.
Touch Screen Controller
Flat glass panel controls let you change the settings with a simple touch. And a wipe is all it takes to clean the tempered glass surface.
.
Tempered Glass Shelves
Scratch-proof and heat-resistant, the tempered glass shelves can even hold up to 100kg* each.
*Weight resistance of Tempered Glass. Image is for illustrative purpose only.
.
Specifications

Door : 4-Door
Series : Big French Standard Glass
Gross Capacity (L) : Total 586L / Freezer 144L
Dimensions (mm) : W855 x H1835 x D737

.
Refrigerator Compartment

Fresh Select
Tempered Glass Shelves
Water Tank with Filter
LED Light

.
Freezer Compartment

Movable Twist Ice Tray
Quick Freezing
Tempered Glass Shelf
LED Light

.
General Features

Dual Sensing Control
(Eco Thermo Sensor)
Water Dispenser
Touch Screen Controller
Nano Titanium Filter
Door Alarm

.
Common Features

Refrigerant R-600a / CFC-Free / HFC-Free / No Frost / Moldproof Door Gasket

.
Colour

.

Specifications

Gas Input (LPG): L/R: 1.9kW
No. of Burner: 2
Top Plate: Enamel
Power Supply: Piezo Ignition
Product Size (WxDxH): 70 x 37.8 x 14.9 cm

.

Weight
15.00 kg
11.00 kg
15.00 kg
2.00 kg
100.00 kg
5.00 kg
Dimensions
26.00 × 44.00 × 33.00 cm
52.00 × 82.00 × 17.00 cm
45.00 × 50.00 × 40.00 cm
17.00 × 24.00 × 39.00 cm
80.00 × 90.00 × 190.00 cm
38.00 × 70.00 × 15.00 cm
Additional information

| | |
| --- | --- |
| Weight | 15.00 kg |
| Dimensions | 26.00 × 44.00 × 33.00 cm |

| | |
| --- | --- |
| Weight | 11.00 kg |
| Dimensions | 52.00 × 82.00 × 17.00 cm |
| Colors | Stainless Steel, Black – Glass |

| | |
| --- | --- |
| Weight | 15.00 kg |
| Dimensions | 45.00 × 50.00 × 40.00 cm |

| | |
| --- | --- |
| Weight | 2.00 kg |
| Dimensions | 17.00 × 24.00 × 39.00 cm |

| | |
| --- | --- |
| Weight | 100.00 kg |
| Dimensions | 80.00 × 90.00 × 190.00 cm |

| | |
| --- | --- |
| Weight | 5.00 kg |
| Dimensions | 38.00 × 70.00 × 15.00 cm |