RUSSELL TAYLORS x DISNEY MICKEY AND FRIENDS SANDWICH MAKER | D7
Out of stock
Description
Features
Mickey character imprinted on sandwich bread.
Easy to use – Simply plug it in, wait 1-3 minutes until preheated and when the indicator light shuts off you can begin cooking.
Compact & lightweight – Its small size makes it the perfect fit for any kitchen, apartment, office, dorm and camper/RV.
Dual-sided Cooking Surface – Each cooking surface is 5-inches wide – providing quick, efficient and consistent results. The nonstick surface easily wipes clean.
Cool-touch Handles – Cool-touch handle allows you to keep your hands safe when opening and closing lid.
A collaboration between Disney Malaysia & Russell Taylors Malaysia.
.
Specifications
Power : 750W
Voltage : 220 – 240V
Plate : Non Removable ( Wipe with wet Towel / Tissue for Cleaning )
Plug : 3 Pin Plug
.
What's In The Box
1 x Sandwich Maker
1 x User Manual
.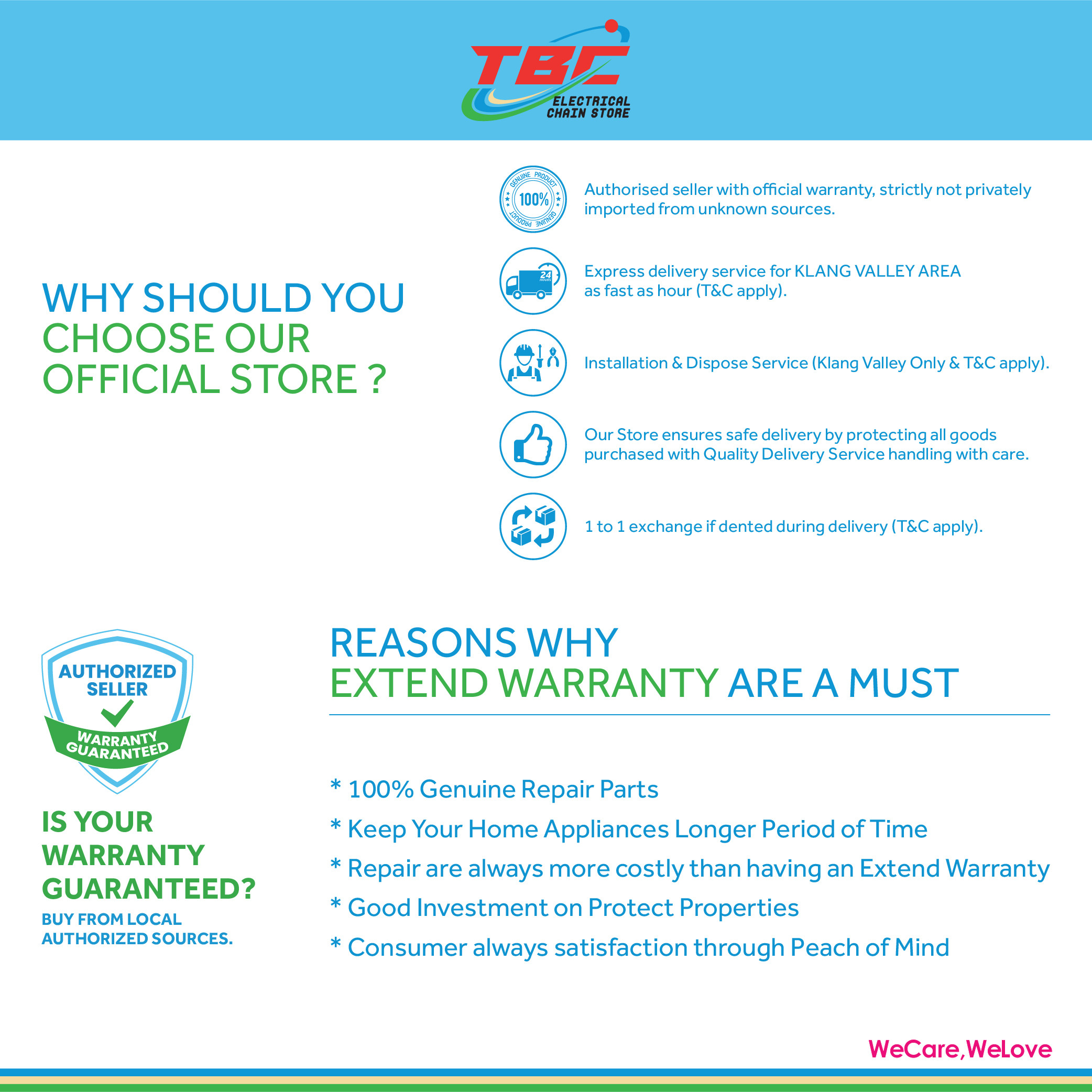 Additional information
| | |
| --- | --- |
| Weight | 2.00 kg |
| Dimensions | 15.00 × 10.00 × 10.00 cm |
Quick Comparison
Settings
RUSSELL TAYLORS x DISNEY MICKEY AND FRIENDS SANDWICH MAKER | D7

remove

SAMSUNG 30L GRILL MICROWAVE OVEN WITH HEALTHY GRILL FRY FUNCTION | MG30T5018CK/SM MG30T5018CP/SM

remove

SAMSUNG 23L GRILL MICROWAVE OVEN (HEALTHY GRILL FRY FUNCTION) | MG23T5018CK/SM MG23T5018CP/SM MG23T5018CN/SM

remove

RINNAI 2-BURNER BUILT-IN GAS HOB | RB-712N-G RB-712N-S

remove

SAMSUNG 220L - 270L 2-DOOR DIGITAL INVERTER REFRIGERATOR | RT20FARVDSA/ME RT22FARADSA/ME

remove

RUSSELL TAYLORS x DISNEY MICKEY AND FRIENDS BREAD TOASTER | D3

remove

Name
RUSSELL TAYLORS x DISNEY MICKEY AND FRIENDS SANDWICH MAKER | D7

remove

SAMSUNG 30L GRILL MICROWAVE OVEN WITH HEALTHY GRILL FRY FUNCTION | MG30T5018CK/SM MG30T5018CP/SM

remove

SAMSUNG 23L GRILL MICROWAVE OVEN (HEALTHY GRILL FRY FUNCTION) | MG23T5018CK/SM MG23T5018CP/SM MG23T5018CN/SM

remove

RINNAI 2-BURNER BUILT-IN GAS HOB | RB-712N-G RB-712N-S

remove

SAMSUNG 220L - 270L 2-DOOR DIGITAL INVERTER REFRIGERATOR | RT20FARVDSA/ME RT22FARADSA/ME

remove

RUSSELL TAYLORS x DISNEY MICKEY AND FRIENDS BREAD TOASTER | D3

remove

Image
SKU
RUS-D7
P-SAM-MG30T5018CK/SM
P-SAM-MG23T5018CK/SM
RB-712N
P-SAM-RT22FARADSA
RUS-D3
Rating
Price

RM

660.00 –

RM

735.00

RM

1,320.00 –

RM

1,535.00
Stock

Out of stock

In Stock

In Stock

In Stock

In Stock

In Stock

Availability
Out of stock
In Stock
In Stock
In Stock
In Stock
In Stock
Add to cart
Description

Glass Touch Technology: Easy to use, responsive and sensitive touch sensor.
Healthy Grill Fry Technology: Enhanced cooking experience, healthier alternative to fry food with the best flavor and texture.
Home Desserts function: Pre-set for dessert baking, quick and easy way to make a wide selection of desserts.

Glass Touch Technology: Easy to use, responsive and sensitive touch sensor.
Healthy Grill Fry Technology: Enhanced cooking experience, healthier alternative to fry food with the best flavor and texture.
Home Desserts function: Pre-set for dessert baking, quick and easy way to make a wide selection of desserts
2 Years General Warranty

3.7kW Gas Input
Sealed Burner
Flexible Cut-Out Size
Tempered Glass Top
Enamel Pan Support
Battery Ignition
Rubber Legs Attached
Japan Good Design Award

Content

Features

Mickey character imprinted on sandwich bread.
Easy to use - Simply plug it in, wait 1-3 minutes until preheated and when the indicator light shuts off you can begin cooking.
Compact & lightweight - Its small size makes it the perfect fit for any kitchen, apartment, office, dorm and camper/RV.
Dual-sided Cooking Surface - Each cooking surface is 5-inches wide - providing quick, efficient and consistent results. The nonstick surface easily wipes clean.
Cool-touch Handles - Cool-touch handle allows you to keep your hands safe when opening and closing lid.
A collaboration between Disney Malaysia & Russell Taylors Malaysia.

.

Specifications

Power : 750W
Voltage : 220 - 240V
Plate : Non Removable ( Wipe with wet Towel / Tissue for Cleaning )
Plug : 3 Pin Plug

.

What's In The Box

1 x Sandwich Maker
1 x User Manual

.

Grill Fry (Crusty Plate)
Enjoy crispy and crunchy food, just like a regular oven. The Grill Fry (Crusty Plate) function cooks, bakes and grills food. So you can enjoy the best flavor and texture of ready to cook frozen food, like fish cutlets, as well as fresh chicken. And it doesn't use oil, so the food is healthier.
.
Home Dessert
Enjoy delicious homemade desserts without wasting time or heating the oven. Simply choose the dessert you want, mix the ingredients and select the Home Dessert option. With one touch you can make a wide selection of desserts, including Walnut pound cake, Banana bread, Egg pudding and Brownies.
.
New Design & New Color
Choose a microwave oven that perfectly matches your personal taste and the style of your kitchen. Featuring a stylish new countertop designed in Pure Black and Clean Pink.
.
Power Defrost
Save time defrosting frozen food. With Power Defrost you can choose from 4 popular foods: meat, poultry, fish and bread/cake. Simply enter the type and weight of food and it calculates the optimal defrosting time and power. So you can prepare ingredients quickly, while preserving nutrients.
.
Bread Defrost
Defrost bread quickly and easily, so it feels and tastes fresh. With a touch of a button the Bread Defrost function calculates the optimal time and temperature to defrost frozen bread, pastries and rolls. It then uses the Sheath Heater and Crusty Plate to ensure it's perfectly baked and brown.
.
CERAMIC INSIDE™
Clean up after cooking much more easily. The smooth CERAMIC INSIDE™ can be cleaned without scrubbing and won't discolor over time. The German Hohenstein Institute has approved it as 99.9% anti-bacterial. The durable surface is also 7 times more scratch and rust resistant than other interiors.
.
Triple Distribution System
Make sure that everything you cook is perfectly prepared and delicious. The unique Triple Distribution System distributes microwaves in 3 directions, so they reach into every corner and penetrate food in multiple directions. It ensures that everything is cooked much more thoroughly and evenly.
.
Auto Cook
Cook delicious dishes without recipes or guesswork. Auto Cook has a choice of options for the most frequently cooked dishes, such as poultry and pasta. Each is pre-programmed with the optimal mode, time and temperature. Simply select the type and weight of food and it will prepare it perfectly.
.
ECO Mode
Cook delicious meals without it costing the earth. ECO Mode significantly reduces energy consumption with the industry's lowest standby power. When you're not cooking, the power used to maintain essential functions is kept to the minimum. So you can save money and help protect the environment.
.
Type

Product Type : Grill
Installation Type : Freestanding

.
Capacity

Oven Capacity : 30L (1.0 Cu.ft)

.
Materials/Finishes

Colour (Door) : Black, Pink
Colour : Black
Control Method : Touch
Door Type : Side Swing with Handle
Cavity Material : Ceramic Enamel
Turntable Size : 318mm
Display Type : LED (White)
Grill Heater : Sheath

.
Power/Ratings

Power Source : 240V / 50Hz
Output Power (Microwave) : 900W
Power Consumption (Grill) : 1650W
Power Consumption (Microwave) : 1400W
Power Consumption (Max) : 3050W
Power Level : 6

.
Features

Various Cooking Mode
Clock
30 sec. Plus
Eco Mode
Defrost (Auto / Power / Sensor)
Auto Programs
Auto Cook
Grill Fry
Home Dessert
Bread Defrost
Child Safety Lock
Sound on/off
Healthy Cooking

.
Accessories

Wire Rack
Crusty Plate
Quick Guide Label

.
Weights / Dimensions

Cavity (WxHxD) : 357 x 255 x 357 mm
Outside (WxHxD) : 517 x 297.3 x 425.3 mm
Weight (Net) : 15.9kg
Weight (Shipping) : 17.7kg

.
Basic Information

Manufacturer / Importer : Samsung Electronics Co.,Ltd.
Product Origin : Malaysia
Packing Case : Colour

.

Grill Fry (Crusty Plate)
Enjoy crispy and crunchy food, just like a regular oven. The Grill Fry (Crusty Plate) function cooks, bakes and grills food. So you can enjoy the best flavor and texture of ready to cook frozen food, like fish cutlets, as well as fresh chicken. And it doesn't use oil, so the food is healthier.
.
New Design & New Color
Choose a microwave oven that perfectly matches your personal taste and the style of your kitchen. As well as featuring a stylish new countertop design, you can choose from a wide range of colors –
Clean Mint, Clean Pink, Pure Black.
.
Quick Defrost
Defrost frozen food rapidly with Quick Defrost. It has options for 5 commonly used foods: meat, poultry, fish, vegetables and bread. Simply select the type and weight of food and it calculates the optimal defrosting time. So it takes less time to prepare ingredients, while preserving nutrients.
.
CERAMIC INSIDE™
Clean up after cooking much more easily. The smooth CERAMIC INSIDE™ can be cleaned without scrubbing and won't discolor over time. The German Hohenstein Institute has approved it as 99.9% anti-bacterial. The durable surface is also 7 times more scratch and rust resistant than other interiors.
.
Triple Distribution System
Make sure that everything you cook is perfectly prepared and delicious. The unique Triple Distribution System distributes microwaves in 3 directions, so they reach into every corner and penetrate food in multiple directions. It ensures that everything is cooked much more thoroughly and evenly.
.
Auto Cook
Cook delicious dishes without recipes or guesswork. Auto Cook has a choice of options for the most frequently cooked dishes, such as poultry and pasta. Each is pre-programmed with the optimal mode, time and temperature. Simply select the type and weight of food and it will prepare it perfectly.
.
ECO Mode
Cook delicious meals without it costing the earth. ECO Mode significantly reduces energy consumption with the industry's lowest standby power. When you're not cooking, the power used to maintain essential functions is kept to the minimum. So you can save money and help protect the environment.
.
Type

Product Type : Grill
Installation Type : Freestanding

.
Capacity

Oven Capacity : 23L (0.8 Cu.ft)

.
Materials / Finishes

Colour (Door) : Pure Black, Clean Mint & Clean Pink
Colour : Black
Control Method : Touch
Door Type : Side Swing with Handle
Cavity Material : Ceramic Enamel
Turntable Size : 288mm
Display Type : LED (White)
Grill Heater : Sheath

.
Power / Ratings

Power Source : 240V / 50Hz
Output Power (Microwave) : 800W
Power Consumption (Grill) : 1150W
Power Consumption (Microwave) : 1200W
Power Consumption (Max) : 2350W
Power Level : 6

.
Features

Various Cooking Mode
Clock
30 sec. Plus
Eco Mode
Defrost (Auto / Power / Sensor) : Quick
Auto Programs
Auto Cook
Grill Fry
Home Dessert
Bread Defrost
Child Safety Lock
Sound on/off
Healthy Cooking

.
Accessories

Wire Rack
Crusty Plate
Quick Guide Label

.
Weights / Dimensions

Cavity (WxHxD) 330 x 211 x 324 mm
Outside (WxHxD) 489 x 275 x 381 mm
Weight (Net) : 12.7kg
Weight (Shipping) : 14.3
Loading Quantity (20/40ft) : 366/770

.
Basic Information

Manufacturer / Importer : Samsung Electronics Co.,Ltd.
Product Origin : Malaysia
Packing Case : Colour

.

Flame
Semi double ring ensures excellent heat distribution for quick and even cooking.
.
Tempered Glass
Durable, easy to clean.
.
Flexible Cut-out Size
Both the glass and stainless steel top plate fit the hob on any cut-out dimensions as stated, without further modifications to your counter-top. Good as a replacement hob!
.
Battery Ignition
Fast and easy, with no electrical wiring. Easy to replace battery, too.
.
Elegant Knob
The gas ignites automatically with one push and a turn, offering the convenience of using one hand to control the flame.
.
Rubber Legs
The attached rubber legs allow you to place the hob directly on the kitchen workspace, without having to cut a hole or modify the kitchen top.
.
Sealed Burners
Messy spillages are minimized and cleaning the hob is quick and easy
.
Cast Iron Wok Stand
Additional wok stand to support a big wok for Asian cooking or stir frying.
.
Specifications

Surface: Tempered Glass / Stainless Steel
No. of Burner: 2
Gas Input (LPG): L/R: 3.7kW
Gas Type: LPG
Power Supply: Battery ignition
Control Panel: Knobs
Pan Support: Enamel
Flexible Cut-Out
Product Size (WxDxH) 78 x 46.5 x 6.7 cm

.

Digital Inverter Compressor and 10 Year Warranty
Unlike conventional compressors, which have just two patterns of start and stop, Samsung's Digital Inverter Compressor makes 5 different moving cycle based on humidity levels and usage patterns. This helps maintain a more consistent temperature, reduces wear and tear on the compressor for greater durability, and keeps noise to a minimum. You'll also enjoy the peace of mind that comes with lower electric bills and a 10-year warranty.
.
Physical specification

220L Net Dimension (WxHxD) 555 x 1,445 x 637 mm
270L Net Dimension (WxHxD) 555 x 1,545 x 637 mm

.
Cooling Feature

No Frost
Cooling Type : Allround Cooling(Mono) (RT20FARVDSA/ME only)
Multi Flow (RT22FARADSA/ME only)

.
Refrigerator Feature

Deodorizer Type : Deodorizer Filter
Number of Shelf (Total) : 2 EA
Shelf Material : Glass
Number of Vegetable & Fruit Drawer : 1 EA
Egg Container (Egg Tray) : Yes
Interior LED Light : Yes
Number of Door Pocket : 3 EA (RT20FARVDSA/ME only)
Fresh room : Yes (RT20FARVDSA/ME only)
Big Guards : Yes (RT20FARVDSA/ME only)
Chill Compartment (RT22FARADSA/ME only)
Number of Door Pocket : 4 EA (RT22FARADSA/ME only)

.
Freezer Feature

Icemaker : Twist
Shelf Material : Plastic
Number of Shelf (Total) : 1 EA
Number of Door Pocket : 2 EA

.
General Feature

Door Alarm (RT20FARVDSA/ME only)
Refrigerant : R600a (RT22FARADSA/ME only)
Cyclopentane Insulation (RT22FARADSA/ME only)

.
Exterior Feature

.
Energy

Energy Star Rating : 3 Stars

.

Specifications

Mickey character imprinted on toast.
Extra wide slots with self centering bread guides and high-lift lever.
Adjustable Browning Control
Crumb Tray
Non-Skid Rubber Feet.
Plug : 3 Pin Plug
A collaboration between Disney Malaysia & Russell Taylors Malaysia.

.

What's In the Box

1 x Toaster
1 x User Manual

.

Weight
2.00 kg
18.00 kg
15.00 kg
11.00 kg
50.00 kg
2.00 kg
Dimensions
15.00 × 10.00 × 10.00 cm
47.00 × 58.00 × 37.00 cm
43.00 × 56.00 × 33.00 cm
52.00 × 82.00 × 17.00 cm
67.00 × 58.00 × 165.00 cm
30.00 × 20.00 × 20.00 cm
Additional information

| | |
| --- | --- |
| Weight | 2.00 kg |
| Dimensions | 15.00 × 10.00 × 10.00 cm |

| | |
| --- | --- |
| Weight | 18.00 kg |
| Dimensions | 47.00 × 58.00 × 37.00 cm |
| COLOUR | BLACK, Pink |

| | |
| --- | --- |
| Weight | 15.00 kg |
| Dimensions | 43.00 × 56.00 × 33.00 cm |
| COLOUR | Pure Black, Clean Pink, Clean Mint |

| | |
| --- | --- |
| Weight | 11.00 kg |
| Dimensions | 52.00 × 82.00 × 17.00 cm |
| Colors | Stainless Steel, Black – Glass |

| | |
| --- | --- |
| Weight | 50.00 kg |
| Dimensions | 67.00 × 58.00 × 165.00 cm |
| Capacity | 270L, 220L |

| | |
| --- | --- |
| Weight | 2.00 kg |
| Dimensions | 30.00 × 20.00 × 20.00 cm |